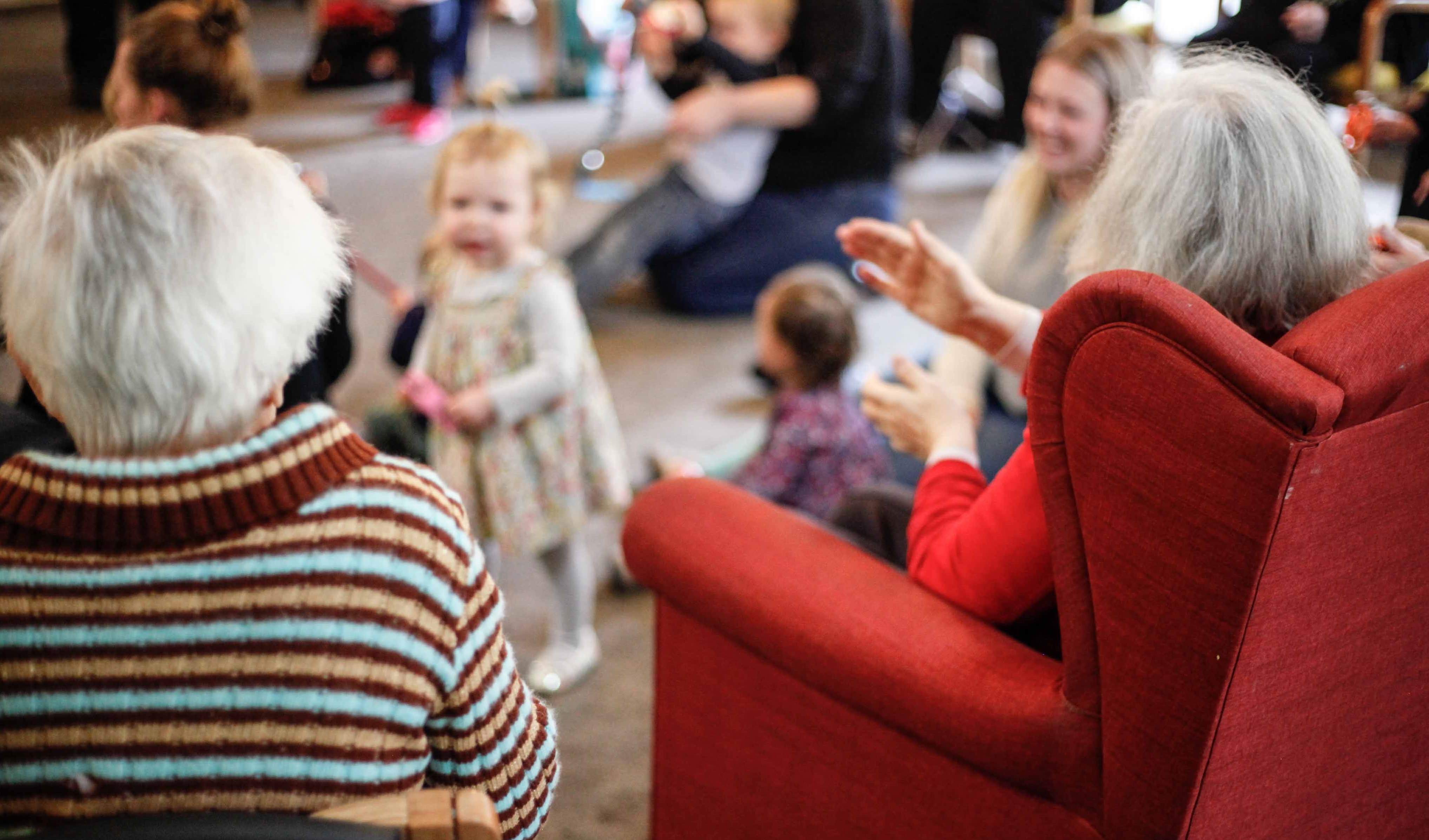 Fun For The Young & Young At Heart!
PLEASE NOTE:  OUR INTERGENERATIONAL SESSIONS ARE CURRENTLY ON HOLD DUE TO COVID-19 RESTRICTIONS.  hey dee ho 'Sing and Swing' musical concerts (no children in attendance), have replaced Intergenerational sessions at some venues until restrictions have eased.
Young, old or in between, music is one of life's greatest joys that brings generations together. Developing connections between children and the elderly can have a tremendously positive effect and makes for wonderful memories and happy moments for all!
Held at retirement or aged care facilities, sessions are designed to entertain and engage while gently encouraging children and residents to interact with one another playing percussion instruments, using puppets, singing and dancing.
Always fun and guaranteed to bring smiles to everyone's faces, each session is staged around a theme and include children's songs along with a mix of current and traditional favourites that can spark memories for many elderly participants. hey dee ho concerts offer aged care and nursing home residents a wonderful form of community engagement and the children a terrific opportunity to make some 'new old friends'!
What Our Friends Say...
I just wanted to say what a fantastic program you are running! My son Liam was transfixed throughout the whole session and we both had such a wonderful time. I managed to chat with some of the residents and hope to come back next month to meet more of them.
We had a ball last week attending the class. My daughter got so much joy from seeing the older people so happy and we plan on coming back very soon!
The smiles are incredible and the joy that fills the room is just beautiful. There is a brilliant mix of tunes from Rockin' Robin to nursery rhymes and the class is perfect for those who might not have grandparents or grandchildren around or living close. Incredible!
I'm a single mum and my Mother is my son's only grandparent, so I would love to have more interaction with the older generation for him.
I think it's an absolutely amazing idea. I work in aged care and I can see the benefits of doing this.
Send Us a Message
For more information on holding sessions at your aged care facility or to enquire about bringing a playgroup or kinder children along to an existing session, please fill in our contact  form and we'll be in touch.
Join our intergenerational groups for session times and locations