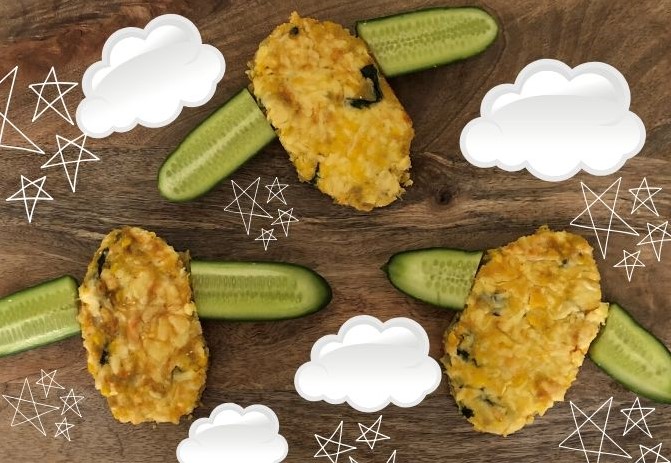 When we saw pictures of these aeroplanes floating around the internet, we knew we must find the recipe and try them instantly! Not only are they super adorable, they're super tasty and easy to make. Packed full of veggies, they're the perfect lunch for your children!
INGREDIENTS
1 onion, chopped
200g sweet potato, peeled, grated
1 cup fresh corn
1 cup baby spinach
½ cup white quinoa, cooked
6 free-range eggs
¼ cup milk
1/2 cup grated tasty cheese
3 Lebanese cucumbers
METHOD
Preheat oven to 190. Grease and line a large baking tin.
Heat a touch of oil in a frying pan over medium heat. Add onion, potato and corn, and cook for 5 minutes. Add spinach and cook until wilted. Transfer to a large bowl and let cool for 10 minutes. Once cool, add quinoa and mix well.
In a separate bowl, whisk eggs and milk. Season with salt and pepper. Pour into vegetable mix and stir to combine. Pour into prepared tray. Scatter with cheese. Bake for 25 minutes or until set and golden.
Once frittata is cooked, allow to cool. Once cool, cut frittata into rounded rectangles. Cut cucumbers into wing shapes and attach to the frittata using toothpicks. After attaching the cucumber wings, serve!